Frequently Asked Questions
Where do I go to update my CAGE info?
To update your CAGE info, Click Here to update the US/NATO database.
How do I edit my NSN or add more NSNs?
Click Here to update NSNs on E-Cat (Electronic-Cataloging). If you experience any trouble updating your NSN, the DLAs contact information is listed below:
How do I make an RFQ or request a Quote?
After searching for the NSN of your choice, enter your email address, phone number, and quantity. You can either Add To Cart and continue shopping, or Submit your RFQ immediately.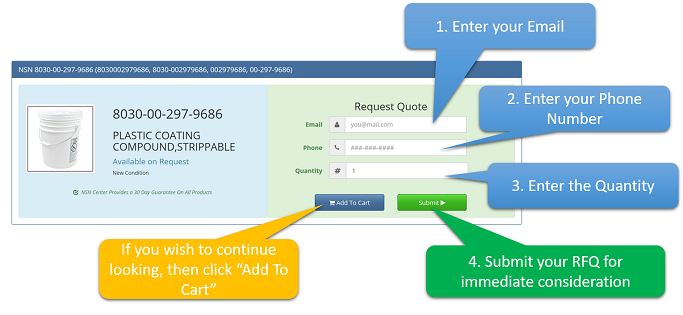 I am getting zero results when I search for a specific NSN number. What do I do now?
Technical issues may arise such as search functionality not working. Here is an easy way to search your NSN by using the web browser:
If you have the full NSN (for example 2530-01-491-2681), then enter in the web browser: https://www.nsndepot.com/NSN/2530-01-491-2681 (Don't forget the dashes)